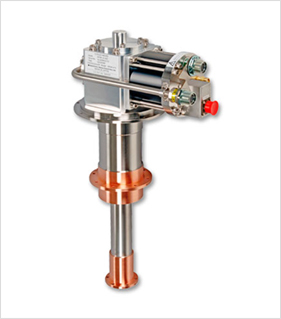 RDK Series Cryocoolers Service
RDK Series Gifford-McMahon Cryocoolers are high-quality,
ultra-reliable designs that operate at extremely low
temperatures (typically liquid helium temperatures).
Due to the unique operating environment of these cryocoolers, on-site service
and maintenance non-trained technician from SHI is not recommended at this
time.  The most reliable approach to service and maintenance on these
cryocoolers is to return them to our service centers. 
Product repairs and refurbishments performed at Service Centers include :
- Flow check of all internal parts to ensure optimum refrigeration capacity
- Replacement of required wear items -seals, valve disc, valve stem, capillaries and displacers, when necessary
- Performance testing to factory specification
- Leak check, both pressurized and for vacuum integrity, where applicable
- Full factory warranty
We also understand that there are cases where complete removal and return of the cryocooler is overly difficult. In response,
We also offers "Hot Swap" service performed by trained technician from SHI.
Hot Swap service allows for "in situ" maintenance, without the need to remove the complete cryocooler for return or
replacement. Hot Swap service involves complete exchange of the cryocooler assembly, with the exception of the cylinder,
which remains installed in the customer's system. Hot Swap implies that the customer's system is warm to allow for reliable
removal and exchange.